Enjoy the episode!
Japanese Version (Eri)
皆さん、お元気ですか?
私達は、先週の日曜日、家族とバーベキューをしに行きました。
河原に行きました。
車もとめられて、お金もかかりませんでした。
自分達で好きな場所を選べます。
この日は、とてもいい天気でした。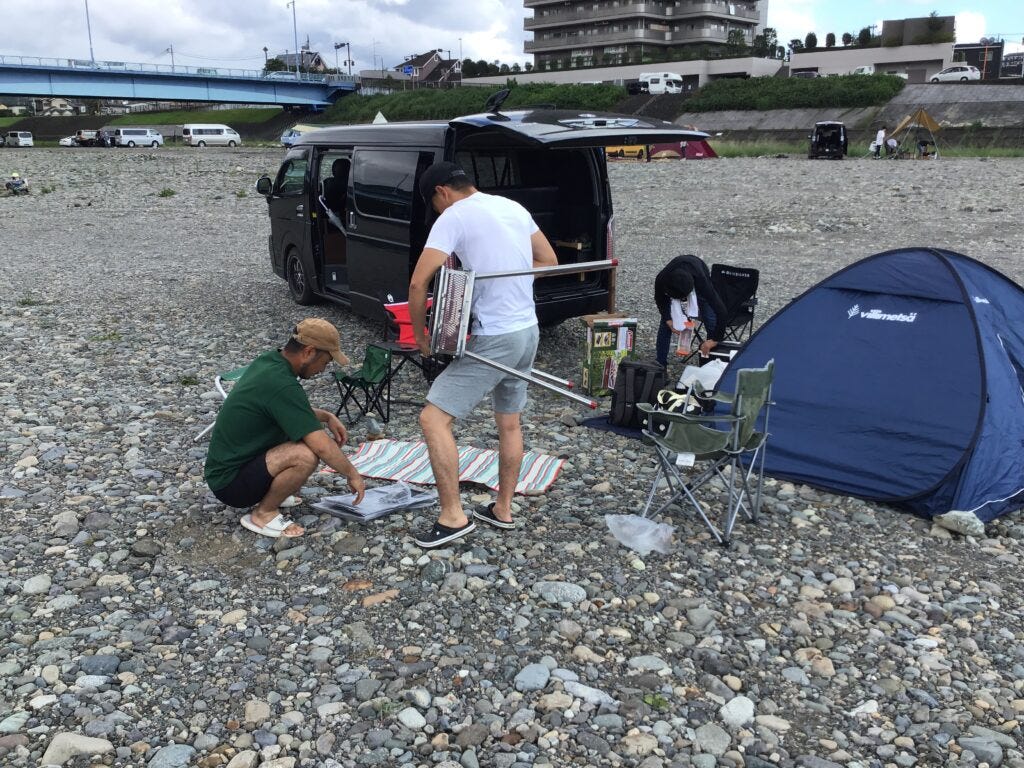 バーベキューの道具は全部弟のものを使いました。
アウトドアは、準備も楽しいですよね😊
準備は弟がほとんどしてくれました。
日本のバーベキューは、肉や野菜、魚介類などを焼きます。
いとこが育てたニンニクや野菜を焼きました。
美味しかったです。
食べ終わった後は、弟とチャールズが河原の石で作品を作りました😊
大きい石を何度も重ねて、積みました。
二人とも、少年のようでした😁
自然のなかでは、ただボーっとするのも気持ちがいいですよね。
やっぱり、みんなで外で食べるご飯、美味しいです。
毎日暑いですが、たくさん遊んで、夏を楽しみます!
それでは、また!!
English version (Charles)
Hi everyone, how are you?
Last Sunday, we went out with my family to have a barbecue.
We went to a dry riverbed.
You can park your car there, and it doesn't cost any money.
You can choose a place that you like.
The weather that day was very nice.
All the barbecue utensils we used are owned by my brother.
When doing outdoor activities, even the preparations are fun😊
My brothers did most of the preparations, though.
For Japanese barbecues, we grill things like meat, vegetables, and fish.
We grilled garlic and vegetables that my cousin grows.
It was delicious.
After eating, my brother and Charles made a piece of art out of rocks from the riverbed. 😊
They stacked many big rocks on top of each other.
They were both like little boys 😁
When you are in nature, it feels good to even just relax and do nothing.
Food eaten outdoors together sure does taste great.
It's hot every day, but we're going to have a lot of fun and enjoy summer!
See you!!